MISSION:
To support UCF student veterans, the Supply Vault demonstrates an appreciation for their service in the U.S. military. The UCF Community Veterans History Project is honored to welcome student veterans to UCF and to promote solidarity within the veteran community.
WHAT IS THE SUPPLY VAULT?
The vault is a collection of school supplies that will help student veterans be successful. Example supplies include noise canceling headphones, wireless keyboards, voice recorders, blue light glasses, smart notebooks and external hard drives. These items are provided to student veterans at no cost.
The Supply Vault for Student Veteran Success is sponsored by the UCF Community Veterans History Project in partnership with the UCF Veterans Academic Resource Center with generous donations from a variety of UCF colleges, departments and offices.
ACCESS REQUIREMENTS:
Student enrolled full-time at UCF
Involved or willingness to get involved in the UCF campus community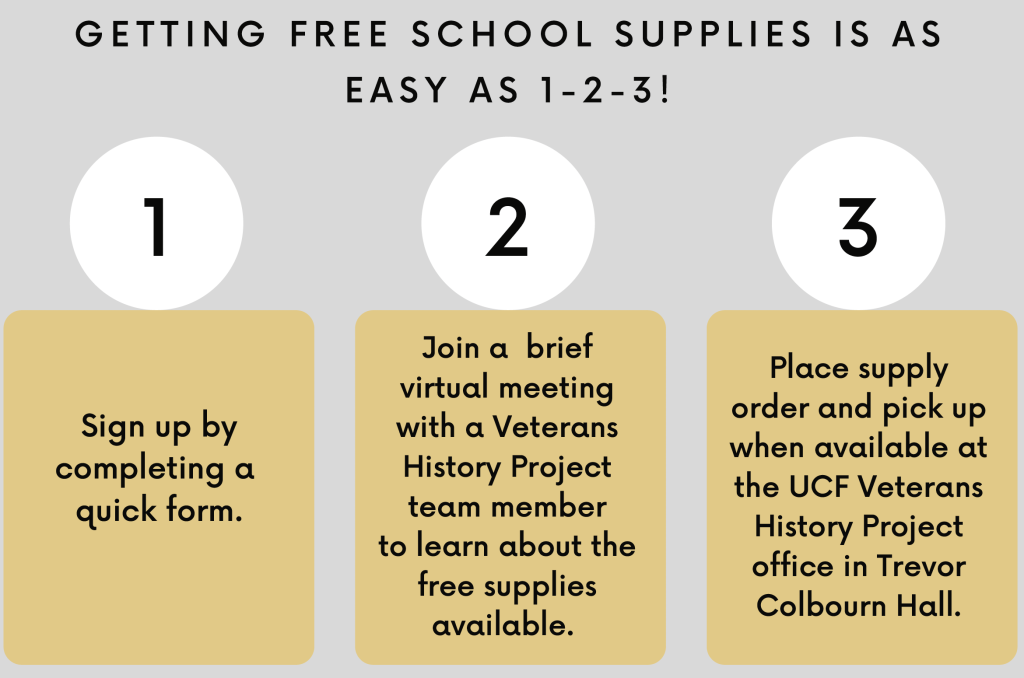 SIGN UP FORM:
Student veterans currently enrolled at UCF and active in a campus organization or activity, can sign up HERE.
---
DONATE TO THE SUPPLY VAULT:
You can support UCF student veterans by donating supplies to the vault. Place an order using our Amazon List. Supplies will be sent directly to the UCF History Department and added to the vault.
View the Supply Vault for Student Success Amazon List HERE.
Call the UCF History Department at 407-823-2225 if you have questions or to inquire about providing a financial donation.
---