Created in the fall of 2010, the Community Veterans History Project (CVHP) honors American war veterans by giving them the opportunity to share their stories. The histories of our wars will not be complete without the voices of those who were involved.
CVHP is committed to serving the Central Florida veteran community by digitally preserving their stories for future generations. Over 600 Central Florida veterans have participated in the project by sharing and archiving their experiences.
The UCF CVHP is a Regional Initiative for Collecting the History, Experiences and Stories (RICHES) Project.
The Project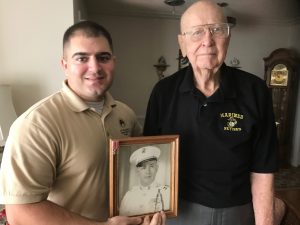 Share your story with the UCF Community Veterans History Project
Sharing your story with the UCF Community Veterans History Project preserves your experience alongside thousands of other veterans experiences of military service that would otherwise be lost to society. It not only preserves your stories for historical record, but also for your family. For each interview we conduct, a copy of the interview is given to the veteran to keep.
Veterans who would like to be interviewed may register here.
Listen to their stories
The Project has conducted neary six hundred interviews to date. While a subset of those interviews are housed in the Library of Congress, all interviews are stored in the UCF Library Database. These interviews can be found here.

Upcoming Events
UCF's Al-Ghazali Islamic Studies Program housed in the Department of Philosophy presents two special talks on past and present Islamic architecture. Join us for this in-person lecture discussing: "The Great Mosque of Samarra and Abbasid Imperial Architecture" Dr. Matt Saba is Librarian…
The Central Florida Society of the Archaeological Institute of America is delighted to present the 2023 Joukowsky Lecture. Dr William Fitzhugh (Smithsonian) will discuss "Vikings: The North Atlantic Saga" on February 10 at 7pm on UCF's main campus (room to…
More Events